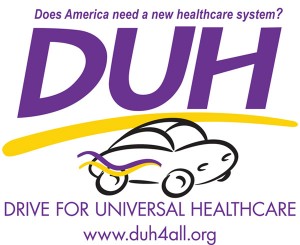 NEW!  SOUTHEAST TOUR  March 9th – 15th, 2015
Check out our screenings in Georgia, South Carolina and North Carolina!
WEST COAST TOUR April 11th – May 6th, 2014
In April and May, 2014, we went on the road again with the Drive for Universal Healthcare!  Click HERE for a calendar of our west coast tour!  We started in San Diego, California on April 11th and ended up in Spokane, Washington on May 6th.
HISTORY and EASTERN TOUR September 3rd – 11th, 2013
The Drive for Universal Healthcare (DUH) , directed by Sue Saltmarsh, made a plan to travel from Augusta to Springfield IL in September of 2013 to promote universal healthcare in all the capital cities of states that have some kind of legislation.
As filmmakers, Terry and Laurie wanted to support this project.  We got the idea of raising funds to rent a bus, and to help promote the project by inviting people to join us "on the bus" – if they couldn't come in person, they could come "virtually".  We wanted to make the driving demonstration bigger than just a few of us!  So we launched a short term campaign called It's Our Bus, and raised funds to rent a mini-van for actual travelers, and to set up a way to communicate by email with "virtual" travelers so they could follow along.
The campaign ended once we reached our 'Tipping Point" goal.
As people heard of the Drive for Universal Healthcare, a lot of them wanted to also do a screening of The Healthcare Movie, because the filmmakers would be present, so the screenings became part of the Drive.  Later on, we also decided that it would be a good idea to film some of the things people on the streets of these cities are saying about health care.  So we are setting up "Street Talk" sessions within each of the cities.  We set up cameras and asked people what they think about the health care situation and what they are willing to do about it.
We also gathered signatures to add to our  petition:  "End the For-Profit Health Care Marketplace" which is gaining support from all over the country.
For the next phase of DUH, the West Coast Tour took place April 12th-May 5th.